There have been so many great hip-hop projects that have come out this summer. My personal favorites are:
J. Cole – K.O.D. (Does this count as a summer release if it was like 80 degrees in April?)
Jay Rock – Redemption
Drake – Scorpion
While these are all great projects, each one of these rappers has a different style of rapping, flow, and cadence. These rappers (well, maybe less so for Nas) put a lot of emphasis on their vocal delivery as they do their lyrics.
I just wanted to talk about why I think it's important for young, aspiring rappers to work on their delivery. Maybe even more so than their lyrics.
If you're reading this (it's not too late) and you're not an aspiring rapper, that's great! Then I'll give you more insight as to why you like that Lil Pump song so much or why Kendrick Lamar's songs are so captivating.
I'd also like to preface this by saying that… yes, I am a Hip-Hop music expert, and yes, I am a 110% credible source.
Disclaimer: LYRICS ARE PRETTY FUCKING IMPORTANT! I don't want to seem like I'm an advocate for mind-numbing, Cat-In-The-Hat type lyrics at all.
Why Delivery is More Important Than Lyrics
Hold up, hold up…what is you saying Mr. Culturalist? Good lyrics is what rap music was founded on!  
Yes, you're totally right. Rap is supposed to be original. Rap is supposed to be you pouring your life, your experiences, your heart into the song and the beat. But it's also a performance. A rapper is, in fact, an actor. Not a visual one, but a vocal one. Rappers are voice actors  for their music just as much as Seth MacFarlane is for the entire cast of Family Guy. Rappers need to convey their story through their voice.
Too many time's have I heard rappers, including myself, drop some of the hardest bars only to be combined with the most monotone voice. Like they're taking attendance and asking where Bueller is. It sounds like they don't even care about what they're rapping about. Because basically…
IF YOU SOUND LIKE YOU DON'T CARE, NO ONE ELSE WILL EITHER!
But Mr. Culturalist, what about monotone rappers like 21 Savage? 
Ok, well that's a stylistic thing, and you can worry about that after you work on your delivery and flow. Stop trying to wiggle your way out of this. Lyrics ain't that important right now.
I say this with love because I want you to be better.
Have you noticed that these "New Rappers" and a lot of modern rap music doesn't really put emphasis on lyrical ability? Of course you have. You want to know what these new-age rappers are amazing at that a lot of lyrical rappers don't have?
Original/Catchy Style and Cadence
I know there are MANY rappers who have great lyrics and great style and cadence, but isn't that what we are all striving to be? The Kendricks, the Drakes, the J. Coles?
For example, I don't really like Famous Dex's lyrics.
Like at all.
But his cadence is really fucking catchy and unique. If you see here in his song, "Pick it Up" with A$AP Rocky, his voice gets progressively louder and more aggressive as he gets to the end of his 4-bar stanza. It get's the listener hyped up and to anticipate the next 4 bars as well.
So, before I show you how to master this art, I want to show you a bad example of vocal acting/delivery.
"Song Cry" is an emotional ballad in which Jay describes the pain of a long-term relationship ending. Since his pride and masculinity don't allow him to visibly show his emotions, he employs the tear-jerking lyrics to do it instead.
If you listen to the lyrics, they do evoke a certain sadness in the listener. But do you actually HEAR any of the sadness in Jay's voice? His delivery is basic. If it wasn't for the soulfulness of Just Blaze's beat, the soullessness of Jay Z's voice would have sucked the life out of the song as a whole. You can't hear any emotion in his voice, so how are we supposed to FEEL the sadness Jay Z feels in an easy, accessible way?
Therefore, if your delivery isn't capturing the listener, you've already lost them.
Da Art of Delivery
Go into your own music library and find songs by artists who have amazing vocal deliveries.
For example, Kendrick Lamar's "u" on To Pimp A Butterfly. His vocal performance made me have to rewind the song the first few times I heard it; it's really powerful stuff.
This is how I would practice my vocal delivery:
I would turn that song on, and I would practice rapping along with it in my car and imagine exactly what vocal muscles that Kendrick was using to create that desperate, drowned in liquor, crying rap voice.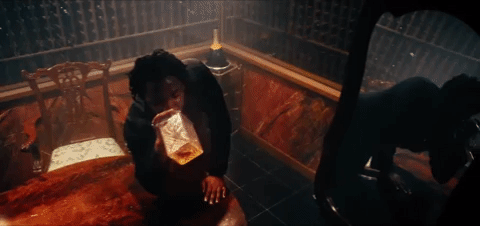 I would practice it until I could do it acapella with an instrumental found on YouTube, and felt very comfortable using it. This could take awhile to get it all down correctly (it sure did take me a few weeks of practice every other day), because you're probably using vocal muscles you never really use on a daily basis.
Side note: If you were in a drama class in high school, like I was, and they made you say crap like "Red leather, yellow leather" or make weird noises, you had a good teacher. Those tongue twisters and weird-ass noises warm up and develop the use of vocal muscles that you're not used to. But they help a crap-ton when rapping/singing/projecting your voice.
Some weird-ass sounds to try out are some popular rappers' ad-libs!
Chance the Rapper's "aigh" and "huh, huh" like in No Problems
Quavo's "yeah, yeah, yeah" like in APESHIT
Childish Gambino's "stay woke!" around 2:45 in Redbone
Now that you've got some of those sounds down, you can start to move onto other songs that, perhaps, yell because they're angry, and other songs that use a quiet voice to convey depression, apathy, etc.
TV shows / movies with great acting are also fun things to try to emulate since they convey their emotions perfectly through their voice and physical actions. I admit that I secretly and silently practice copying other actor's voices and facial expressions as I'm watching it next to my wife.
(I know, I'm a weirdo, Annie. Sorry.)
Also, get INTO your performance, kiddos. I mean REALLY get into it. If you're angry? MOVE YOUR ARMS AROUND LIKE YOU'RE ANGRY while recording! If you're portraying drunkenness, sway your body off balance a bit with your eyes half closed. It really helps getting yourself in the right mood to do the vocal performance.
Just so you know…
You can sound monotone in songs and it can sound good. After working on certain styles of delivery and listening to other artists, I've found that you can say anything you want as long as it sounds good.
I also think the success of Future's rap career proves that as well.
I hope by reading this, you'll have worked out your vocal muscles or will at least attempt to try. Rapping without a unique delivery will cause your songs to sound dull and unpolished.
Okay, I think I'm done… but if anyone has any questions let me know!
#The Cultrualist